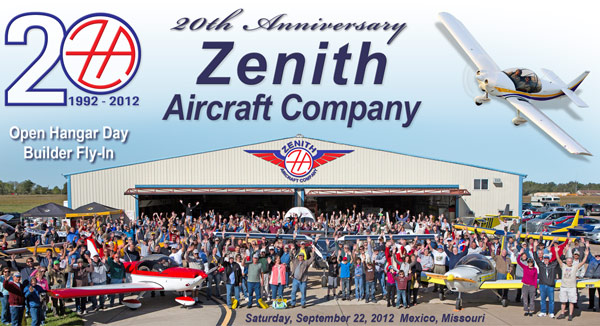 Zenith Aircraft Company celebrated its 20th anniversary this past weekend at the annual Zenith Open Hangar Day and Builder Fly-In Gathering at the kit factory in Mexico, Missouri.
Clear skies, great planes and wonderful people!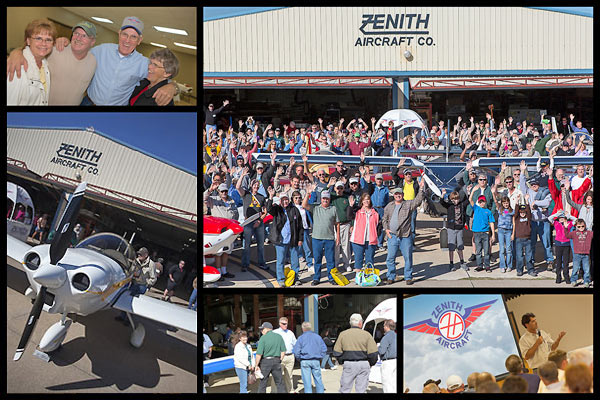 Experimental Aircraft Association
(EAA) reported the following yesterday on the EAA website:
"Hundreds of people from all over the country and from as far away as Australia attended the Zenith Open Hangar Day and 20th Anniversary celebration held last weekend at the company's headquarters in Mexico, Missouri. Picture-perfect weather helped draw upward of 400 attendees and more than 40 Zenith aircraft and others.
EAA President/CEO Rod Hightower and Chad Jensen, EAA vice president of communities, were active participants, with Hightower conducting a Grassroots Pilot Tour presentation at the Friday evening 20th anniversary banquet, then being joined on Saturday morning by Jensen at EAA's standing-room-only E-AB safety seminar presented in the UL Power hangar.
Saturday's program included an official 20th anniversary proclamation being awarded to Zenith Aircraft company from the City of Mexico.  Watch a video clip summarizing the Open Hangar Day activities.
We had a wonderful event celebrating our 20th anniversary, and we thank all who visited and participated!
 Gain Hands-On Experience at a Factory Workshop

We invite you to join us at our next factory workshop to gain
hands-on experience
in building your own Zenith aircraft kit:  Factory workshops scheduled this fall at the
Zenith factory in Mexico, Missouri
:
Zenith Aircraft Company's factory workshops have become popular with sport aviation enthusiasts, giving them the opportunity to gain valuable hands-on experience in building their own Zenith Aircraft kit plane. Participants get the opportunity to actually start assembling kit parts under the direction and guidance of factory professionals and "graduate" from the workshop upon completing construction of their own aircraft rudder tail section for one of Zenith Aircraft Company's popular kit aircraft designs, including the sleek low-wing CH 650 cruiser or the popular high wing STOL CH 750 light sport utility aircraft.
The workshops are held over two days, with participants assembling the complete rudder tail kit of the aircraft (which is the entire vertical tail section of the Chris Heintz designs) from stock rudder kit parts. Attending a workshop is an invaluable first step in building (or selecting) your own kit aircraft, and a workshop held at the factory (where the actual kit parts and assemblies are manufactured) also offers participants the opportunity for a demonstration flight, factory tour and meeting the people who design, fly and manufacture the kit.
In Canada, contact Zenair Ltd. for a schedule of workshops at the Zenair factory in Midland, Ontario.
We're on the way to Oshkosh this weekend to deliver a complete STOL CH 750 kit to EAA!
As reported earlier, employees of the Experimental Aircraft Association (EAA) headquartered in Oshkosh, Wisconsin (home to the annual AirVenture fly-in convention) will be building their own STOL CH 701 light sport utility plane from a kit supplied by Zenith Aircraft Company.
"This is a fantastic opportunity for EAA to show our love and appreciation for homebuilt airplanes," EAA's Chad Jensen said. "The response I've received from interested staffers has been phenomenal, and we can't wait to get started on the build!"  More info