A new close-up air to air image of XH558 taken by Neil Cave and just a taster of other exciting images we will be bringing to XH558's followers soon.
XH558 due to display over Bournemouth and Shoreham this Saturday 30th August.
The whole XH558 team are looking forward to making a long awaited return to the south coast this weekend with displays due over the skies of Bournemouth and Shoreham. Reports from our team in the area say that there is already a buzz of excitement with local radio and newspapers already featuring XH558's return. (As always, XH558's appearance is reliant on good weather and full technical serviceability).
Our social media feeds will give you the latest timings as soon as we know them from the crew of the day. For now, do expect a takeoff from Doncaster at around 3pm and the display at Bournemouth to be about 4pm, then Shoreham at 4.30pm. (All times subject to change and operational conditions).
Find out what's happening with XH558 on the day with our official Twitter feed, Facebook page or XH558 iOS app.
Android XH558 App update:
The Tracker feature update for Android is now coming together, with final software updates for system integration underway. We will have more news on a possible release date in next Friday's newsletter.
XH558 Tracking feature shown operating on an Android device with the route from RAF Waddington to Clacton during the Avro 'Three Sisters' formation flight. This forms part of a major upgrade to the XH558 App on the Android system. More news soon.
Merrick Sapsford, our young volunteer developer, is working really hard on trying to publish the update for public use in order to cover the final flights of the 2014 season in September.
We have a small promotional and merchandising stall in Bournemouth positioned on the seafront just past the East Cliff lift carriage as you head towards Boscombe Pier. This area is normally very busy, however, the team of local Club members would really welcome your visit to talk all things XH558. You can also purchase 'last chance' Raffle tickets there that will return to Hinckley in time for the draw.
The Vulcan to the Sky Club is supporting XH558 with a stall at Shoreham, so do look out for them there if you are attending that show. Again, they will be happy to see you with 'last chance' Raffle tickets available there too.
Bournemouth Air Festival is actually a full four-day experience; the show itself started yesterday (Thursday 28th) and will be running all the way through to this Sunday evening. There are events and displays in the evenings too, so a really great event for full family entertainment.

Find out more about the event from the official website.
Richard Clarke is our Press and Media officer and is attending the show. He sent us this report earlier today.
It is always gratifying to return to Bournemouth and the well supported and increasingly popular Air Festival. Arriving in the town on Wednesday afternoon there was plenty of evidence to show that the event was being well promoted and that big crowds were expected to attend this incredible event, which is unlike any other show of its type in the UK.
Thursday dawned bright and sunny and it was an early start with a number of interviews with BBC Radio Solent to negotiate and a great opportunity to promote the 'People's Aircraft' to an avid local audience. The day continued with the Air Festival Official launch event which was attended by senior representatives from the Royal Navy, Royal Marines, Royal Air Force and the Army. In addition, the Mayor of Bournemouth – Councillor Christopher Mayne – made a speech to officially open the event and to celebrate the 350th Anniversary of the Royal Marines saying "Let us get the show in the air and we also look forward to welcoming you back in 2015".
There was a lot of interest from the media in XH558 and Chief Executive Robert Pleming gave a number of interviews extolling the virtues of the aircraft and acknowledging both the popularity that she has gained in the Bournemouth area and the passion that people feel for her. The show started promptly at 1.25pm with 95 year old record breaker Tom Lackey performing a breath taking wing walk on a biplane . Although this was preceded by a surprise and much welcome appearance by the Sea Vixen, which was carrying out a Display Authorisation flight.
The show continued with spectacular performances from the Red Arrows, the Black Cats, The Battle of Britain Memorial Flight and an exciting demonstration of an air to sea rescue from a Merlin of the Royal Navy, being based on HMS Westminster which was moored in Bournemouth Bay.
The Vulcan to the Sky stand was busy throughout the day with a regular flow of people coming in to ask about XH558 and enquire about her wellbeing and her forthcoming display time on Saturday. We are now looking forward to another day of spectacular performances over the weekend and to the much awaited display by the Vulcan on Saturday at around 4.00pm.
Next Friday's newsletter will announce the five lucky winners in this years Cold War Season Raffle
It could be you!

Do you have some of these and wish to enter?
POST OFF FIRST CLASS BY MONDAY LATEST TO BE ASSURED OF BEING IN THE DRAW
FIVE GREAT PRIZES TO BE WON – INCLUDING A FLIGHT NEXT TO XH558 IN A SPITFIRE!
One lucky winner will be in the rear seat of this Supermarine Spitfire, the most iconic of WWII aircraft, sitting in tight formation with perhaps the most iconic aircraft of the Cold War era. A 'once in a lifetime' experience!
XH558 relies on public donations to keep flying. The next 5 weeks are crucial to making sure we see in 2015.
We have just under 5 weeks now in which to reach both our fundraising targets, that of covering our 2014 season operating costs and then building up enough pledges to ensure we are able to afford the winter service.
The focus of our immediate activities is to secure £400,000 cash before the end of September. As we reach the three-quarter point in the timeframe, at nearly £160,000, we are still well under 50% of the way to target, some way behind where we need to be. The challenge is now to raise nearly £50,000 each and every week to the end of September!
As ever, we can only ask all of XH558's supporters to do whatever they can afford while we also look very, very hard at where we can gain additional income and financial support.
Here is how the 2014 season appeal gauge stands this lunchtime.
You can also make donations by sending cheques made payable to 'Vulcan to the Sky Trust' to our administrative offices at Vulcan to the Sky Trust, Units 1 and 2, Venture Court, Dodwells Road, Hinckley, Leicestershire. LE10 3BT.
Thank you for anything you can do today to help.
Running alongside our campaign to support this season's operating costs, is our Pledge Appeal to support the upcoming winter service that will ensure XH558 can be taken through the winter period in a fully airworthy condition ready for 2015. Although like the main appeal it runs until the end of September, we have a unique air-to-air print available as an additional incentive to all those who pledge early to the value of £60 or more.

THIS OFFER ENDS MIDNIGHT ON SUNDAY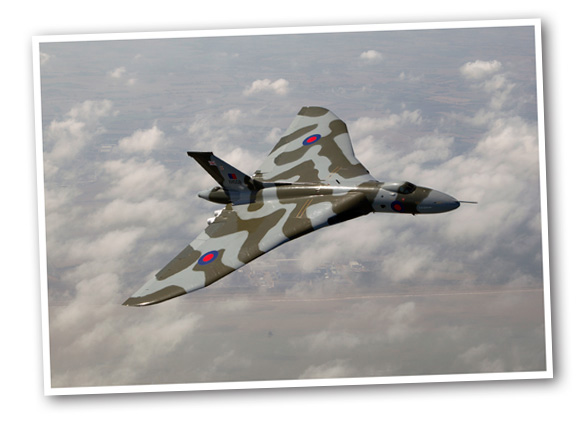 This print will be sent as an addition to your other rewards if you can pledge £60 or more before midnight on Sunday.
If you have already made a smaller pledge, you can also 'top-up' your pledge to this £60 level to also qualify for the extra benefit of this exclusive print.
Pledges continue to rise and we hope these next few days will put us nearer to the 60% level by this time next week as we enter the final month of the campaign period. Here is where we are today.
Please note: All pledge benefits will be posted out later this year providing the appeal reaches its objective and that subsequent donations are called. If we raise more funds than the pledge target, or if there are funds remaining after the completion of the work, we will use these surplus funds to continue to maintain XH558 in the future.
Several weeks back we asked for volunteers to help the Vulcan to the Sky Club team undertake a charity Skydive in aid of Vulcan XH558, and believe it or not, there is now a team of some 15 people willing to jump out of an aircraft strapped to an instructor in a tandem parachute jump!

We have assembled a selection of just a few of the stories of the people who are taking part that shows the strength and depth of support XH558 attains.

Hi, I am a mum of 2 aged 43 and 38 and Grandma to 4 aged from 5 to 18. I have never been one to hide in a corner, and decided what better way to celebrate my 60th birthday, (which is on 29 September),  than jumping out of  a plane for Vulcan XH558. My father was in the Royal Air Force for 22 years and would be so proud of me doing this jump.

I didn't want a party or a night out so this is a perfect way to remember my 60th.  Marion Jesty.

Superb Marion, your determination is much appreciated.

If you would like to join this group and raise money for XH558, then Monday is the final time that the organiser can accept your covering deposits. The total cost to do the training, flight and and jump is £155. Please contact Lee at eastanglia.regions@vulcantotheskyclub.co.uk if you are interested.
August 30th 1952 – 62 years ago tomorrow – Avro prototype 698, registration VX770, a remarkable new delta-winged jet that was to become the Vulcan – climbed into the skies for the very first time.

Happy Birthday to all surviving Vulcans and a big thank you to all those who support them and look after them.

The fascinating story is told in our 60th Anniversary Book with rare period pictures and anecdotes from those who flew Vulcan aircraft in service. A handful of hardback copies are left, well worth the £35 cost.

You might also like the paperback version of Tony Blackman's excellent book Vulcan Test Pilot, that tells you all the behind the scenes development work that was undertaken to later production aircraft.
| | |
| --- | --- |
| Hardback – £35 | Softback – £13 |
Copyright © Vulcan To The Sky Trust 2014