Zenith Aircraft Updates: Give Flight!
Oshkosh AirVenture 2015 was another great event!  Under clear skies and with high attendance, volunteers assembled three sets of Zenith wings as part of EAA's Give Flight program during the week-long fly-in convention in Oshkosh, Wisconsin.  [Click the image above to watch the video]
Two Zenith CH 750 wings and one Zenith CH 650 wing set were completed during the week, and are now on their way to EAA chapters where they will be completed as flying aircraft (and hopefully lead to the formation of new flying clubs).  Volunteers constructed the wings on each of the seven days of AirVenture and anyone who walked by was invited to participate by pulling a rivet.  Thank you to all who participated with the Give Flight wings project!
The volunteer-based project occurred at the main crossroads of the EAA AirVenture grounds, the same location where the One Week Wonder airplane was built in 2014. The completed One Week Wonder Zenith CH 750 Cruzer aircraft was on display in the EAA Welcome Center (above).
The Zenith display was well attended, and was the site for "Engine Day" on Friday where an assortment of manufacturers displayed the different engines (and firewall-forward installations) suitable for Zenith kit aircraft. Zeniths are designed to accommodate a wide assortment of engine choices, from traditional motors (such as the Continental O-200) to modern engines (such as Rotax 912 and UL Power series) as well as alternative engines (such as automotive conversions and diesel).
Below, the Heintz family with the two banquet cakes:
Two Week Wonder
Zenair Ltd. introduced the "Two Week Wonder" accelerated builder assist program at AirVenture.  Inspired by the One Week Wonder project and modeled after other proven two-week programs, this new service allows builders to complete the aircraft in a remarkably short time!  Spend two dynamic weeks in central Ontario at the Zenair factory and assemble your own remarkable CH 750 aircraft! You'll experience your first engine run-up before the end of the program – and that will be just the beginning of the thrills!
Zenair's Two-Week Wonder program is all-inclusive: airframe, engine, firewall-forward engine package, avionics suite, and more… All that's needed is your undivided attention and participation every day, ten hours a day, for two weeks!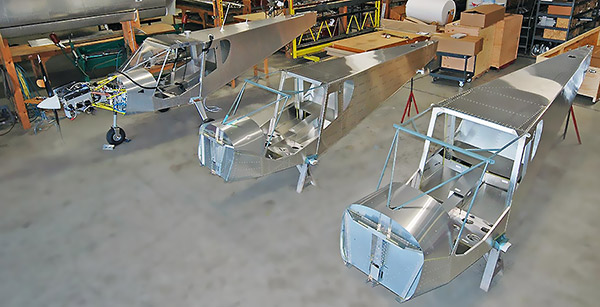 More from Oshkosh 2015:
Able Flight
presented wings to six new pilots (the
Able Flight Class of 2015
) at a pinning ceremony on the main stage at AirVenture, and also acknowledged the support of Zenith Aircraft Company, which plans to work with Able Flight to supply accessible aircraft to its growing number of pilots (in addition to sponsoring flight training).
Visitors to AirVenture were able to shop for new Zenith Aircraft apparel at the EAA stores and see the eight new Zenith T-shirt designs now available. Hats, pins, and other items are on their way and will be available soon from the Zenith store at Shop EAA.
The flight to and from AirVenture is often a highlight of the "Oshkosh experience" and the Zenith crew enjoys sharing their flying adventures of the trip, reminding us that the trip itself is often just as rewarding as reaching the destination!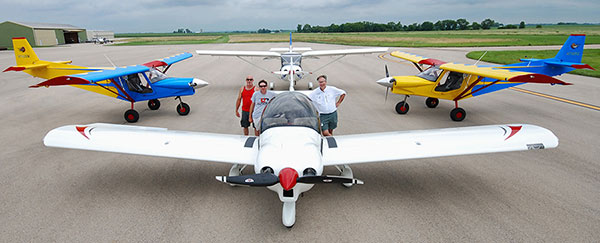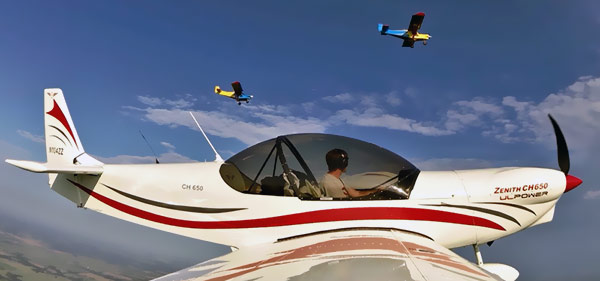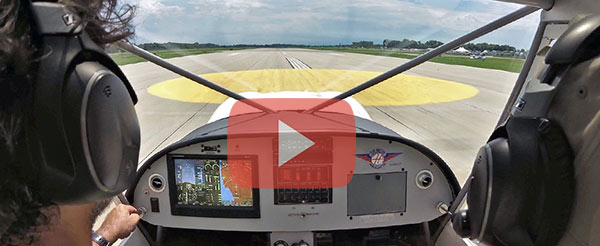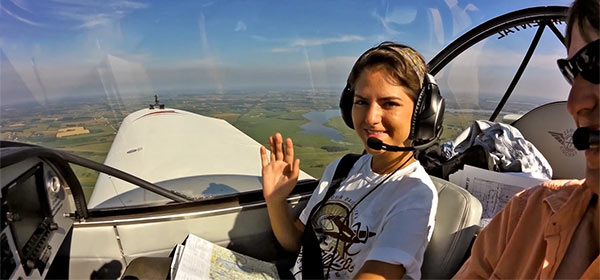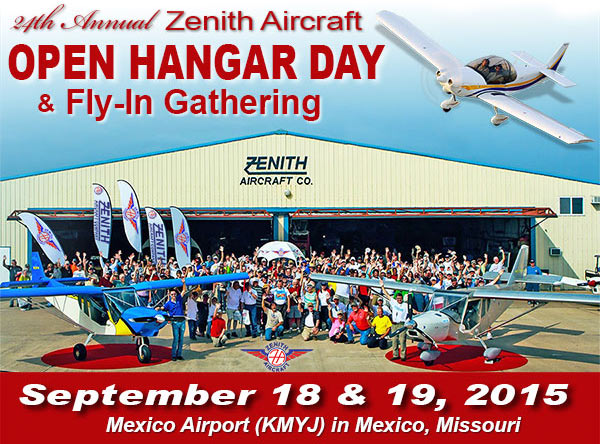 Zenith Aircraft Company will be hosting its 24th annual Open Hangar Day and Fly-In at its factory in Mexico, Missouri.  All aviation enthusiasts, and especially builders and owners of Zenith Aircraft kit planes, are invited to drive or fly-in for the activities. The Zenith Aircraft kit production facilities will be open for factory tours and Zenith's factory demonstrator airplanes will be on display – both on the ground and in the air! Company staff will demonstrate kit production and fabrication techniques used in producing the all-metal kit aircraft parts made at the Zenith Aircraft factory.
Starting on Friday, September 18, there are many activities planned, including a series of hands-on educational and informative workshops for existing Zenith owners and builders, as well as for new builders just getting started (or just thinking of starting their own kit aircraft project). Informative seminars are also scheduled, with topics ranging from avionics (both Dynon and Garmin), powerplant and engine installations (Continental, Jabiru, Superior, UL Power, Viking, and more), insurance, aircraft paint, Sport Pilot, and more. The free seminars are about an hour in length, and the presenters will also be available on Saturday to answer questions and/or display their products and services.   Back by popular demand, there will be a friendly STOL demonstration / competition on Friday afternoon (open to all Zeniths), before the Zenith Banquet at the Elks Lodge (right next to the airport) on Friday evening.  More details coming soon.



Hands-On Factory Workshops
If you have yet to attend a
Zenith workshop
at the kit aircraft manufacturing factory in Mexico, Missouri, plan to attend one this summer!
Here's the schedule for the next few months:
Zenith Aircraft Company's factory workshops have become popular with sport aviation enthusiasts, giving them the opportunity to gain valuable hands-on experience in building their own Zenith Aircraft kit plane.
For more information about building and flying your own Zenith kit airplane, we've published a free and comprehensive 
Zenith Aircraft magazine
, chock-full of information on building and flying your own Zenith.
This
free 48-page full color magazine
provides an excellent introduction to the world of recreational flying and kit aviation.  
Download
 your free copy or
contact Zenith Aircraft
 to have one mailed to you.
Zenith Aircraft On YouTube:

Subscribe to our free YouTube channel for the latest videos of building and flying Zenith kits.
Over 200 exclusive videos on building and flying Zenith aircraft!
Zenith Aircraft On Facebook:
Want more frequent updates from Zenith Aircraft?  "Like" our Facebook page to receive daily news and updates from Zenith Aircraft Company.
Click on Get Notifications (after clicking the Liked button on the Zenith page) to receive all of our updates.
Visit Zenith For A Demo Flight!
We look forward to the opportunity of showing our high-wing Zenith CH 750 Cruzer light sport aircraft. The newest Zenith model, the Cruzer is the "on-airport" version of the popular STOL CH 750 "off-airport" light sport utility kit plane, famous for its roomy cabin with comfortable side-by-side seating and easy cabin access from both sides.
While influenced by its well-known STOL predecessors (the STOL CH 701, the STOL CH 750 and four-seat STOL CH 801 sport utility aircraft), the CH 750 Cruzer is an all-new design optimized as an economical cross-country cruiser for typical (airport) operations.  And of course, we also look forward to demonstrating our awesome low-wing Zenith CH 650 cruiser.
Zenith Aircraft Company

(573) 581-9000

Contact us today to get started on your own Zenith plane!