Zenith Brings Workshops To Florida
For the first time ever, Zenith Aircraft Company is bringing its famous two-day hands-on kit aircraft building workshop to the Sebring U.S. Sport Aviation Expo (in Sebring, Florida, January 25- 28, 2017).
The Zenith workshops are aimed at the first-time airplane builder and have become popular with sport aviation enthusiasts who are considering to build their own aircraft, but are not sure if they have the required skills, work-space and tools. During the workshop, which begins on Wednesday (January 25) and runs until Thursday afternoon (January 26), each participant builds and assembles a Zenith Aircraft rudder tail section from a standard kit. A second workshop session begins on Friday (January 27) and ends on Saturday (January 28).  Additionally, Zenith Aircraft staff will hold a daily one-hour seminar about kit aircraft construction.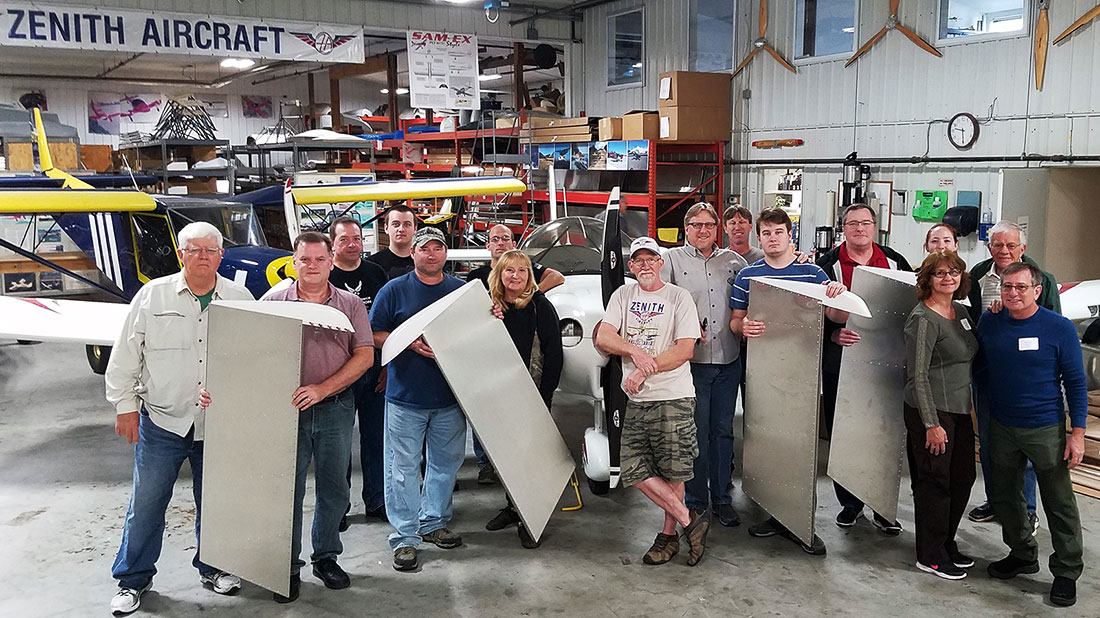 In the hands-on workshop, participants tackle many activities including learning how to read drawings (blueprints) and work from assembly instructions (manuals). They learn the procedures for putting together an aircraft assembly, including drilling, de-burring and blind riveting. As part of the building process participants cut, file and fit the aluminum alloy (sheet metal) parts. In the end, they have an assembled rudder that is ready to install on a Zenith kit airplane.
"The rest of the airframe is constructed the same way as the rudder using pretty much the same tools," said Sebastien Heintz, President of Zenith. "People get far more out of the workshops than just a rudder. They go home with the knowledge and skills they need to finish an airplane. Most importantly, they learn that building is easy, enjoyable and something that can engage the whole family. Many of our prospective builders bring their spouses or other family member, who often encourage them to move forward with the rest of the airframe. With modern technology and good instructions, aircraft construction has become much simpler than most people imagine."


The two-day hands-on workshop is an excellent way to learn about building your own amateur-built aircraft and about the many advantages of owning and flying an airplane that you've built yourself. Kit aircraft is a segment of aviation that is growing while the rest of the aviation industry continues to decline. For many, building an aircraft (from a kit) is a very rewarding experience, and today's modern kits make it easier and quicker to build than even before.



A demo flight in a Zenith aircraft is offered as part of the "workshop experience," and participants are also invited to the Zenith dinner (time and place in Sebring to be determined).
Existing Zenith builders and flyers are also encouraged to attend the Sebring Sport Aviation Expo, and to fly-in with their finished Zenith aircraft projects. Come by and visit with Zenith staff, see the planes at booth S217, lend a helping hand at the workshop tent, and join us for the Zenith dinner (time and place to be announced).
Build It and Fly It at the Zenith Aircraft Factory
Sign up now and save 20% on a 2017 workshop at the Zenith Aircraft factory
. Offer expires 12/31/16.
Attending a factory workshop makes an excellent getaway for you and your spouse or a friend! Spend a couple of days at the Zenith Aircraft factory and meet with fellow aviation enthusiasts – all while gaining valuable hands-on building skills. A factory tour and a 
demo flight
 are part of the factory workshop experience!
Zenith Aircraft's factory workshops have become popular with sport aviation enthusiasts, giving them the opportunity to gain valuable hands-on experience building their own Zenith Aircraft kit plane.
Take advantage of our
Barnstormer Deals
, available just until the end of the year. These special offers are available exclusively to
EAA members
and expire December 31, 2016. Some additional limitations may apply:
For more information about building and flying your own Zenith kit airplane, we've published a free and comprehensive 
Zenith Aircraft magazine
, chock-full of information on building and flying your own Zenith.
This
free 48-page full color magazine
provides an excellent introduction to the world of recreational flying and kit aviation.  
Download
 your free copy (PDF, 12.9 MB) or
contact Zenith Aircraft
 to have one mailed to you.
Check out some of the hundreds of Zenith Aircraft videos on YouTube to learn more about building and flying your very own aircraft!

Subscribe to the Zenith YouTube channel

for the latest videos on building and flying Zenith kits, and to be notified on new videos as they become available.
John Marzulli, builder and pilot of a Zenith STOL, just posted a video titled "The Seven-Oh-Fun: A Decade In Review," highlighting ten years of building and flying his short take-off and landing airplane:
He's also built the "
7-Oh-Foam
," a scratch-built Zenith 701 RC model: "Made from Dollar Tree foam, it is a docile and easy park flyer. Built for the days I can't get to the hangar!"
Watch the video
.
Visit Zenith For A Demo Flight!
We look forward to the opportunity of showing our high-wing Zenith CH 750 Cruzer light sport aircraft. The newest Zenith model, the Cruzer is the "on-airport" version of the popular STOL CH 750 "off-airport" light sport utility kit plane, famous for its roomy cabin with comfortable side-by-side seating and easy cabin access from both sides.
While influenced by its well-known STOL predecessors (the STOL CH 701, the STOL CH 750 and four-seat STOL CH 801 sport utility aircraft), the CH 750 Cruzer is an all-new design optimized as an economical cross-country cruiser for typical (airport) operations.
And of course, we also look forward to demonstrating our awesome low-wing Zenith CH 650 cruiser.
Zenith Aircraft on Facebook
"Like" our Facebook page to receive daily news and updates from Zenith Aircraft Company. After liking the Zenith Aircraft page make sure that Notifications is turned on to receive daily updates from Zenith.
Zenith Aircraft Company

(573) 581-9000

Contact us today to get started on your own Zenith plane!