Day 157: Susie Goodall dismasted 2,000 miles west of Cape Horn
EPIRB alert picked up by Falmouth Coastguard at 11:00 UTC
Goodall safe and secure onboard

Chilean rescue authorities alerted

Nearest vessel is 480 miles to SW – 2 days away
Dateline 15:00 UTC  05.12.2018 – Les Sables d'Olonne, France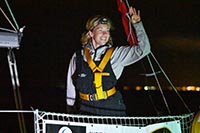 Susie Goodall arriving at the Hobart film stop last month.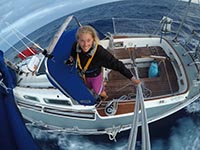 Susie Goodall during a trial sail across the Atlantic before the GGR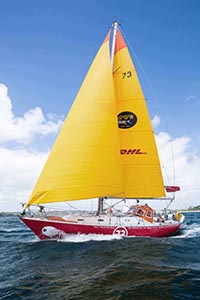 Goodall and her Rustler 36 yacht DHL Starlight
British yachtswoman Susie Goodall was pitchpoled and dismasted in the Southern Ocean some 2,000 miles west of Cape Horn today. A distress signal was first picked up from her yacht  by Falmouth Coastguard at 11:00 UTC, who then alerted Race Control and the Chilean Maritime Search and Rescue authorities responsible for this sector of the South Pacific.