adn.firetrench.com
ftd.firetrench.com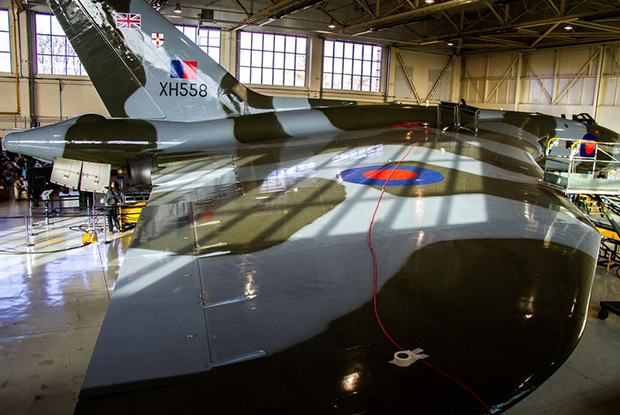 Bright early morning sun shines across the upper wings of XH558 on Sunday – picture courtesy of Luke Verona

Over 50 cars and 120 people from the hugely popular online forum PistonHeads arrived at the hangar on Sunday morning to enjoy the first organised meet-up of their 2015 season. This is a popular way that motoring enthusiasts from all over the country can meet, often giving their classic and well cherished cars their first major spin of the year up a motorway to dust off the winter blues. These meetings enable like-minded people to hear their own stories of restoration and engineering prowess and are certainly ones who can fully appreciate the work and commitment that it took to not only restore XH558, but what it takes to keep her in pristine condition. You can see a report and a selection of more photographs on their own website and forum. Do you have a love for cars as well as aircraft? Why not join them?

Do you belong to another interest group, Club or Society that would like to hold a dedicated event based on a visit to see XH558 in Doncaster?

Contact our hangar team on

0845 124 7285

to discuss what we can organise for you! Or email:

veadmin@vulcantothesky.org
With the winter service in full-swing, we are finding huge demand from supporters for available dates over the coming weeks.

Here are a few tours that have availability in the next 14 days.

Coffee Club meetings - 11am – 4pm Friday 30th January and Friday 6th February Public tours at 1pm on Wednesday 4th February and Saturday 7th February Various Public tours on Monday 9th February Meet Barry Masefield presentation/tour and VIP tours on Tuesday 10th February Public tour at 1pm on Wednesday 11th February
Call our booking office during the week to enquire about the tour and time that best suits you. Call: 0845 124 7285 (it's a local rate call) Or browse through the online booking calendar to book your tour right now:
Our deadline for payments towards the winter service and their respective rewards closes on Saturday, but now we enter the last few days in which you can make a contribution to the reading that will be published in Friday's newsletter. At present we are just over 93%, so it will be fantastic if we can just push on that little bit more to see in 95% of the pledges being honoured.

If you still have to make your payment and wish to do so online – please complete now. We sent an email earlier in January, with the subject line

'Your pledge for XH558: request for payment'

and you can pay online from that for convenience. If you have a Direct Debit form to return to us – please post off now. If you are unsure of what to pay – then call our PLEDGE TEAM tomorrow on 0845 5046 558

(It's a local rate call).

Here is how we stand today:
Thank you for all you can do.
Shop with all the major online retailers - still save and make a contribution to help XH558 too!
Since we combined with Give as You Live your online shopping has helped raise over £1,300 just by using them as your shopping comparison website and in ordering through their portal. Save on just about any item, be it clothing, electrical items, home furnishings, or the very latest in computers and home entertainment. The higher the ticket price, the greater the savings you can make and the greater share of the supplier's commission that comes directly to us.
Design your own label or personalise a message directly onto a variety of items.
With a really easy to use online system, now you can design and send a personalised bottle of wine, selected spirits or Cava and a whole host of other selected gift items to your relatives and friends. We have teamed up with GiftsOnline4u to offer customisation and a direct delivery service in quality packaging to give that person a gift that is something very special. Their unique range of Vulcan to the Sky Gifts include personalised wine, champagne, spirits and personalised mugs, as well as engraved alcohol gifts, such as engraved wine, engraved champagne, engraved vodka and whisky bottles with an outline of the Vulcan, as well as your own custom message engraved onto the front of your chosen bottle. 20% of net proceeds from your purchase, less postage and packaging will support Vulcan XH558.
CLICK HERE TO SEE THE RANGE AVAILABLE
Update from the hangar, with the very latest news on the winter service.
Another fascinating story in our Cold War series of recollections.
The latest news on any more confirmed displays for 2015.
We continue to discount over 200 lines in our web store as we clear the shelves ready for the exciting new lines we will introduce this summer. Bag yourself a bargain now or treat that special relative or friend to something they will appreciate.

LAST FEW EVER OF THESE TIME SENSITIVE ITEMS TO CLEAR
KEEP WARM & COSY WITH XH558 THIS WINTER
SPEND A NIGHT IN WITH THESE GREAT TITLES
Over 200 items reduced – browse our store for all the latest prices
Copyright © Vulcan To The Sky Trust 2015